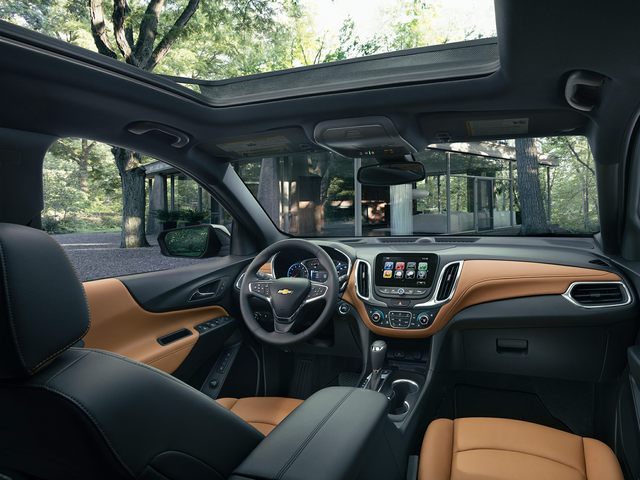 Looking for a new SUV? Chevrolet and Ford are two perennial auto-industry heavyweights that instantly come to mind when you think of sport utility vehicles. Drivers in The Villages who want a fuel-efficient compact SUV should seriously consider the new Chevy Equinox. This reliable little crossover handles well and stays composed on imperfect roads. The new Ford Edge is bigger and has a stronger base engine than the Equinox, but when you take gas mileage, tech features, and reliability into account, the Equinox wins hands down!

Compare the New Chevy Equinox with the new Ford Edge
The Equinox Is More Reliable: An SUV isn't much good to you if it won't start or run well. The new Chevy Equinox is a dependable crossover you can count on to get you around every day in The Villages. It earned a perfect five out of five predicted reliability rating from J.D. Power! The new Ford Edge only received a three-out-of-five reliability score from J.D. Power.
The Equinox Gets Better Fuel Economy: Since its small and comes with a four-cylinder engine, its understandable why the Chevrolet Equinox gets good fuel economy. People in the Villages who want to save at the fuel pump will appreciate that the Equinox earns an EPA-estimated 26 mpg in the city and 31 mpg on the highway. The midsized Edge only gets 21 mpg in the city and 29 mpg on the highway with its most fuel-efficient engine.
The Equinox Has a Better Infotainment System: Drivers in The Villages who like to use their smartphone apps in their vehicle will like the Chevy Equinox's user-friendly system. Its intuitive and has easy-to-use physical controls for some functions. The Ford Edge's graphics and displays look clunky and outdated compared to the Equinox's.
Test Drive the New Chevy Equinox at George Nahas Chevrolet
The new
Chevy Equinox
is a crossover with class-leading reliability, a comfortable ride, and outstanding safety ratings. It also gets good gas mileage and has a first-rate infotainment system. The Ford Edge, while being a decent midsized SUV, can't compete with the Equinox's fuel economy and tech features. Visit George Nahas Chevrolet and test drive it today!