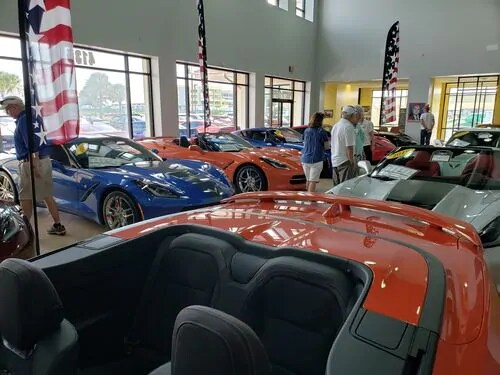 WHY BUY FROM GEORGE NAHAS CHEVROLET
George Nahas Chevrolet is proud to be your local Chevy dealer where we care more about the customer experience than our bottom line. Our focus on you the customer comes straight from our owner Mr. Nahas who has been in the automobile industry for over 35 years. This experience has led to Mr. Nahas earning the title of National Dealer of the Year, an induction to the Automotive Hall of Fame and the cover of Time Magazine based on the high level of customer service that we continue to provide every day. Our sales and
service
department strive to reach the high standard that both Chevrolet and Mr. Nahas have set to maintain customer satisfaction. We are in fact the closest auto dealer to The Villages and look forward to showing you just how important your total satisfaction is to us in every experience. 
GEORGE NAHAS
Mr. Nahas has been consistently recognized for his excellence both as an auto dealer and for his community service. Mr. Nahas is a first generation dealer who has worked his way to be a leader amongst his peers. He has served as president of FADA for seven terms, Director of Florida NADA for 6 years and has been director and chairman of more groups than we can list. Being a locally owned dealer allows Mr. Nahas to still be on site daily to share his experience and leadership with the team. 
MANAGEMENT EXPERIENCE
Our management team has been hand selected by Mr. Nahas himself to ensure that these core principals of customer service are maintained. Through years of experience our management team has learned that the best way to do business is to treat each and every customer with the honesty and respect they deserve. This customer centered approach has helped us build a strong customer base full of referrals and repeat business. 
WHAT MAKES US DIFFERENT
At George Nahas Chevrolet we try and follow the simple principals of Fast Fair & Friendly. Focusing on our customers and their experience while always keeping in mind how valuable their time is. We believe in doing business the old fashioned way where our word and a handshake still mean something. Our experienced sales and service team will go above and beyond to make sure that your experience here is everything you desire. 
COMMUNITY INFLUENCE
Being a locally owned dealership we have a significant ties to the community. Mr. Nahas is very active in providing his time, energy and finances to those that are in need. His reach goes beyond simply giving to our local community he also has a very strong presence back in Illinois where he originally started as a dealer. Mr. Nahas maintains multiple scholarships at both Northern Illinois University and the DePaul University Law School, he ensures that the recovering abuse victims at The Children's Home Society are able to celebrate Christmas, a personal favorite is Hugs for Bugs which helps pay non-medical bills for families with sick children, the local Humane Society, Toys for Tots, Boys & Girls Club and numerous other groups in need.